Meet the Everly: $1,475/Month Studios, and a $12.8 Million Tax Break from City Hall
march 2017 | writing & visualization | the riverfront times | [link]

The Everly is now under construction just east of the Loop. Photo by Sarah Fenske


On most days the large fourteen-story construction site just east of Skinker on Delmar is bustling. Workers with "Clayco" printed across their safety gear install new windows. Brick is quickly scaling the facade. But you won't hear cautionary construction beeping coming from the brightly colored leasing office just down the street – or find construction dust inside. There, the Everly's marketing campaign is in high gear.

I visited the leasing office in mid-February, and then returned a week later for a hard-hat tour of the construction site. (At the time I was simply an interested neighbor; I only later decided to write this story, and contacted the RFT with a freelance pitch.)

Inside the storefront, leasing agents touted the Everly's amenities: a tanning room, a shallow "dipping" pool, monthly happy hours, reserved parking spots, a campus shuttle to Washington University, and on-site staff similar to campus resident-advisors, who plan resume-builder workshops and professional photo sessions to buff up residents' LinkedIn profiles. The highest floors of the tower will include "trash valet service" and Bluetooth showerhead speakers. Show-rooms feature high-end furnishings, granite countertops, and flat screen TVs. A leasing agent, who said she had just moved to St. Louis, boasted of the "hipster" vibes of the Loop, "gated community" security, and views of the Arch.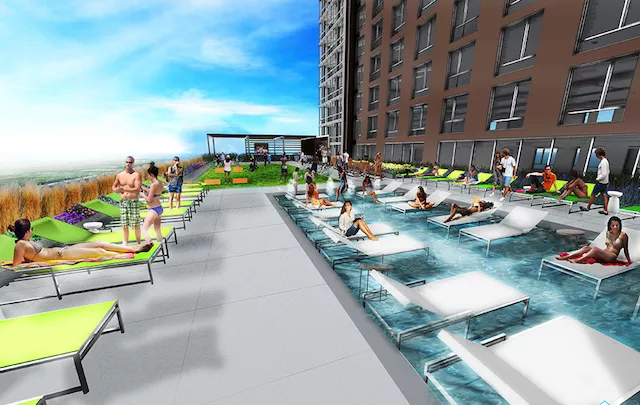 Renderings of the Everly by Forum Studio.

RENDERING

VIA THE EVERLY

Behind the project's five-star online reviews touting its safety and high-end features (which turn out to be written by employees), are fly-through renderings of the building, featuring white models as renters and, in most cases, black models as the help. All of the Everly's advertising overtly pitches to college students.

But this isn't campus housing. The 203-apartment development is a "boutique student living" project financed and built by a private developer, but marketed specifically to college students at nearby Saint Louis University and Washington University.





A rate sheet for the Everly.

Starting rent for a studio is $1,470.

5 a month, and "VIP" rates increase from there. That makes the Everly significantly more expensive than anything else in the area. Yet the developer won't be paying any taxes on the new building for ten years — and for another six after that, they'll be paying half of the assessed value of the improvements. That's thanks to a sizable tax abatement granted by the city of St. Louis, which declared the site "blighted." Never mind that it's just a block from the heart of the Loop (and those highly marketable "hipster" vibes); to the city, this is an area that needed special "perks" in order to lure development.

City officials, including Everly advocate Alderwoman Krewson, have justified the reduction of potential city revenue associated with the tax abatement by saying that the lot was empty. At the Royale Mayoral Close Up, Krewson stated, "Maybe it's prime [for tax-incentive-free development]. Maybe it isn't. But it's empty."

But just because a landowner is holding out for a ton of money, it doesn't mean that the city should subsidize luxury apartment development. That's not real "blight." That's just the market. Development tools like tax abatements are meant to encourage development in areas where the market is weak. The market in the Loop is anything but weak; if it were, the developers could hardly charge $1475/mo for a studio apartment – a price that's virtually unheard of anywhere in St. Louis. Wash U students in particular tend to be a well-heeled group – one in five come from the top one percent of family incomes.

By giving the project such a big tax break, those of us who do pay taxes will be forced to pick up the bill for the city services given to the Everly, including police and trash service, as well as depriving city coffers of much-needed revenue. Importantly, it's been estimated that the abatement will cost the city $12.8 million in potential revenue, approximately $7 million of which would have gone to St. Louis Public Schools.


This map shows parties involved in the Everly project. Click here to view the full interactive map. GIF BY CAITLIN LEE

The Everly is a partnership between prolific St. Louis developers Clayco Realty Group (CRG) and Koman Group. The city has recently awarded many similarly large incentive packages to Koman projects. As with the controversial Northgate TIF project — in which the Circle K on Delmar and Skinker is being forced to vacate its lease to make way for a tax-incentivized Walgreens — this luxury tower has garnered the attention of incentive reform advocates, largely due to its location on the Loop.

The district has seen significant recent development that includes high-end restaurants, music venues, and luxury official university housing now filling the street. Building here is not a risky venture. And so, as in the Central West End, incentives aren't necessary to make a project attractive; they tend simply to increase a developer's profit margin. Yet this luxury apartment building received sixteen years of tax abatement from the city: Clayco and Koman will continue to pay taxes on the assessed value of the land prior to development, but the development's increased valuation won't be taxed at all for ten years. For six years after that, it'll be discounted to 50 percent.

For this project, Clayco/Koman hired attorney David Richardson, a partner with the large multi-state firm Husch Blackwell. Richardson has been involved in a large number of tax financing structure projects in St. Louis, including "The Last" hotel, Jefferson Arms, and the Starbucks on South Grand.

In this case, Clayco/Koman and Richardson submitted the project proposal to the St. Louis Development Corporation (SLDC), which determines which developers get tax incentive packages from the city. Otis Williams, the executive director of the SLDC, sent the proposal on to the Land Clearance for Redevelopment Authority (LCRA), a sub-group that approves blight studies and tax abatements for new-build development. After a presentation by Richardson, Alderwoman Lyda Krewson (who is also a mayoral candidate), and developers on January 26, 2016, the LCRA determined the 6105 Delmar site was "blighted" and negotiated the size of the tax break with the developers.

From there, the proposed tax break went to Neighborhood Development committee, which reviews new development project proposals. (Alderman Jeffrey Boyd, who is running for mayor, chairs the committee and oversaw its approval.) The original proposal included a twenty-year tax abatement. The committee reduced the abatement to sixteen years, following negotiation between the developer and SLDC.

Backed by Krewson, in whose ward it resides, the board bill then sailed through the Board of Aldermen with a unanimous vote.

The Everly also received an exception to the preservation board's height rule for new builds in the area. While height rules are often relaxed for "density bonuses," in this case the variance was granted without any affordable housing requirements. Minutes show that Richardson, as a board member on the Preservation Board, was present for the vote, although he told me he makes a point of recusing himself from votes on all of his firm's projects.


Recent donations to mayoral candidates from developers and lawyers associated with the Everly project. Click here to view the full interactive map. GIF BY CAITLIN LEE

According to Missouri Ethics Commission filings, Richardson's law firm Husch Blackwell donated $1,000 in May 2016 to both Krewson and Lewis Reed, president of the Board of Aldermen and mayoral candidate, and $500 to Boyd in August. Clayco, Koman Group and Jay Case, a Clayco principal, each donated $1,000 to Krewson's mayoral campaign in June 2016. Since December, Krewson received campaign donations from Clayco ($5,000), Husch Blackwell ($5,000), and Richardson ($2,500). Clayco also gave to Boyd ($1,500) this January, and Husch Blackwell donated $5,000 to Reed this February.

Krewson's spokesman, Ed Rhode, did not respond to my questions asking about her role in pushing the project through, as well as those donations. Richardson said he does not comment on clients' projects. Koman did not respond to multiple request for comment.

The more I've looked into the Everly and its city tax break, the more I'm troubled by it. There is a place for tax abatements in St. Louis. But if subsidies are sought, developers should carve out commitments to provide affordable housing, not just apartments for the top one percent. Any development that gets a tax break should come with provisions that benefit low and moderate income families as well. This didn't happen in the case of the Everly.

It's not too late. Clayco and Koman could retroactively make changes to use the 20 percent standard that is common in many cities and offer 40 units to working and middle-class residents at various income levels.

Without that, these costly apartments seem like the perfect example of a project that shouldn't need, or get, a huge tax break. Why are city voters being forced to subsidize those who need the extra help the least?





Renderings by Forum Studio show no children inside the building; most of the black models shown are in service positions.

RENDERING

VIA THE EVERLY

There's another thing about the Everly that should concern people who care about fair housing in St. Louis, and that's the overt marketing to students by owners which are not connected to an educational institution. The "student" label is convenient. It allows the developers to limit their focus, to market to a particular kind of wealthy client instead of the more diverse population that lives nearby, even though the actual leases don't have these restrictions.

Indeed, the Everly and its marketing partner Catalyst Media, which is owned by the Everly's property management company Campus Advantage, uses marketing materials to subtly suggest that the apartments are not available to, or appropriate for, the general public. The leases appear to meet fair housing standards even as the marketing materials speak to only one audience, the wealthiest students at SLU and Wash U.





Everly marketing materials make an overt pitch to students.



It's worth noting that two and three bedroom options are leased per person/bedroom and not for the whole unit – hardly the way a family with two kids thinks about their rent bill – and that anyone over the age of one is required to sign a lease. Not surprisingly, no children are pictured inside the building in the renderings and marketing materials.

Essentially, this project is doing almost everything it can, legally, to limit potential customers to a very exclusive clientele. While the content of their marketing materials and presentations do appear to be legal, is this the kind of exclusionary development that we want to be supporting with tax incentives?

The Metropolitan Equal Housing and Opportunity Council finds the marketing problematic. Says Elisabeth Risch, the nonprofit's director of research and education, "All housing properties must comply with federal and state Fair Housing laws. Housing providers cannot discriminate against families with children, persons with disabilities, or any other protected class in any respect, including in their leasing policies, occupancy requirements, how they advertise, the amenities they offer to residents, and more. In general, properties cannot refuse to rent to families with children, cannot place extra restrictions on families with children, or otherwise do anything that takes away a family's right to live where they choose."




Another Everly Rendering.

RENDERING

VIA THE EVERLY

Even more troubling, video renderings of the building's various areas, created by the architect Forum Studio, portray every virtual service employee as African American. Chris Cedergreen, a chairman at Forum Studio and Everly design principal, did not return my call requesting comment.
This past year, Wash U experienced trouble filling The Lofts, its highly-priced, official student housing development just down the street on the 6200 block of Delmar. Campus newspaper StudLife wrote, "Many students found they had been placed in the Lofts even after ranking it last on their [housing] petitions due to its high price tag." With the opening of the Everly, more affluent students, who may have filled the Lofts, might move to the Everly, therefore sending even more students who can't afford it to the Lofts. Again, is this what we want our tax subsidies doing?

Last week the Everly hosted a Mardi Gras party at the Cheshire on Clayton to recruit new renters, with lease discounts and raffles for flatscreen TVs. I attended that event, and I talked with four Wash U juniors who were part of a group of friends that had signed leases with the Everly last month; two of their apartments will be on the top floor in the VIP section. They picked the Everly because of its location on the Loop, furnished apartments, proximity to the Metro, and amenities. The opportunity to live with students off campus was "definitely a part" of their decision, while affordable housing existing nearby was not prioritized, they said, noting that the Everly's monthly costs are less than what they are currently paying on campus. None of them knew that the Everly received a tax abatement from the city.





As of February 17, six apartments had been signed for on Level 9, the highest non-VIP floor.



During my visit to the Everly's leasing office, pins in a floor plan showed apartments that have been leased. Before Valentine's day, that was 21 apartments out of 196 available units. The Campus Advantage leasing agent I spoke with said everyone is welcome to apply for a lease; you don't have to be a student to sign. But she told me that so far all units had been rented by students.

Overall, The Everly stands as a shining example of public policy that subsidizes luxury housing development, while our schools lose funding and housing grows less affordable for low-income families. Amid activists' demands that publicly subsidized developments be required to include affordable housing, the Everly rises on Delmar, where it stands as yet another edifice exemplifying a development strategy that promotes housing for the wealthy in a city that continues to grow increasingly segregated along both class and race lines.



Read the follow up: At the Everly, Students Are Now Moving into $1,475/Month Studios