St. Louis Stadium Ownership Group Has Big Money—And No City Residency
march 2017 | writing & visualization | the riverfront times | [link]

On April 4, St. Louis voters will be asked to divert almost $4 million dollars a year in new "use tax" revenue generated by Proposition 1 away from the city budget and towards the financing of a new soccer stadium via Proposition 2.

This map is intended to give city voters a more complete picture of who will profit from the proposed stadium. None of the owners lives or pays taxes in the city of St. Louis, the only jurisdiction directly affected by the passage of propositions 1 and 2. Interestingly, many of them have ties to Bain Capital, the hedge fund founded by Mitt Romney.

honors: featured in Deadspin's coverage of the vote


These men stand to own a new MLS soccer team if St. Louis voters say yes to two propositions on the ballot next week.
Click here to view the full interactive map
.

On April 4, St. Louis voters will be asked to divert almost $4 million dollars a year in new "use tax" revenue generated by Proposition 1 away from the city budget and towards the financing of a new soccer stadium via Proposition 2.

AspireSTL, a political action committee, is behind the campaign to get voters to approve the stadium financing package. Its promotional push has featured the local members of the ownership group Soccer Club St. Louis, or SC STL, as spokesmen. But familiar names like Jim Kavanaugh, owner of World Wide Technology and the public face of the group, are only a small part of its membership, according to St. Louis Football Club's website.

This map is intended to give city voters a more complete picture of who will profit from the proposed stadium. None of the owners lives or pays taxes in the city of St. Louis, the only jurisdiction directly affected by the passage of propositions 1 and 2. Interestingly, many of them have ties to Bain Capital, the hedge fund founded by Mitt Romney. Five of the eleven attended Harvard or Princeton.


This map shows the executive committee of the stadium ownership group.




Executive Committee
The ownership group's executive committee consists of men from Boston, suburban Kansas City and St. Louis County. Traditionally, the chairman is the largest investor, with other members of the executive committee chipping in larger sums than investors who are not on the committee

Paul Edgerly, chairman — Edgerly is a longtime executive of the Boston-based private equity fund Bain Capital Group. Mr. Edgerly is also the partial owner of the Boston Celtics and an Italian soccer club AS Roma. An online records search shows that in the past three years, Edgerly has sold more than $2.4 billion in shares of companies he runs or has a significant ownership stake in.

Terry Matlack, vice chairman ― Matlack hails from the Kansas City area. He runs a hedge fund named Tortoise Capital Advisors. Matlack and Edgerly are longtime friends and partnered with executive committee member David Peacock to own more than 70 Jamba Juice franchises, most of them in California. The holding company for the franchises is headquartered in Clayton, and its initial ownership shares were valued at $14 million. Matlack and Edgerly own a smaller number of Dunkin' Donuts franchises.

Jim Kavanaugh, vice chairman ― Kavanaugh is the owner of World Wide Technology, based in Maryland Heights. Mr. Kavanaugh is the current CEO and owner of St. Louis County's minor league soccer team, St. Louis FC, and is the former president of the board of the youth soccer club named St. Louis Scott Gallagher. Both of these elite clubs are involved in the campaign through AspireSTL. Additionally, Kavanaugh is a partial owner of the St. Louis Blues NHL franchise. St. Louis' Board of Aldermen just approved $105 million in city tax dollars for renovations to Scottrade, where the Blues play. Kavanaugh lives in Webster Groves, a municipality in St. Louis County.

David Peacock, executive committee member ― Peacock, who lives in Town & Country, a municipality of St. Louis County, is a former Anheuser-Busch executive, the current chairman of the St. Louis Sports Commission, and an advisory board member with the tech startup Lockerdome. Peacock was also involved with the unsuccessful effort to build a new NFL stadium in St. Louis. Amid the Ram stadium debacle, he supported the effort to avoid putting the decision up for a vote. Peacock is also part-owner of the pro-athlete training gym in Kirkwood, the Central Institute for Human Performance and on the advisory board of Lewis & Clark Venture Capital, LLC.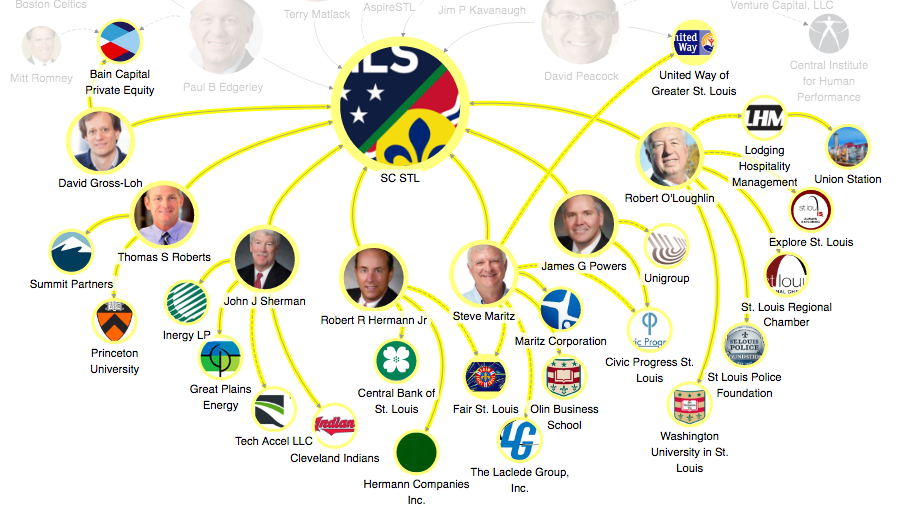 This map shows the other investors of the stadium ownership group.




Investors
These investors likely own a smaller share of the team than those on the executive committee, but nevertheless will have some stake in the project.

David Gross-Loh, managing director at Bain Capital ― Gross-Loh focuses on private-equity markets in Tokyo. He sits on a variety of company boards in Japan, China and Australia.

Thomas Roberts, managing director at Summit Partners ― Roberts is a managing director at Summit Partners, another investment firm based out of Boston. Earlier in his career he worked at notable names, including Goldman Sachs. He is on the board at Princeton University and co-chairs its capital campaign.

John Sherman, former chairman and CEO of Inergy LP and vice chairman of the Cleveland Indians ― Sherman is the founder and past chairman and CEO of Inergy LP, an oil and natural gas company in Texas and Kansas City (where he is based), which after a recent merger was valued at $9 billion. He also serves on the board of the utility company Great Plains Energy and is an investor in Tech Accel. Last year, Sherman bought a minority ownership in the Cleveland Indians.

Robert Hermann Jr., CEO of Hermann Companies, Inc. ― Hermann Jr. is the CEO and chairman for his family's food packaging company. He serves on boards, including Central Bank. Hermann is the son of Robert Hermann Sr. (last year part of a bitter dispute) and the heir to some of the Busch family fortune. The Hermanns live in Ladue, and their daughter was crowned "Queen of Love and Beauty" in the 2014 Veiled Prophet ball, a debutante-like event for the richest families in the St. Louis area.

Steve Maritz, chairman and CEO of Maritz Corporation ― Maritz is the head of Maritz Corp., a longstanding family-owned business in St. Louis. In addition to his business, Maritz holds positions on many St. Louis boards: Olin Business School, Laclede Gas and Civic Progress. He is a former chairman of both United Way and Fair St. Louis, the organization behind the Veiled Prophet Ball. Maritz owns residences in Ladue and Clayton.

Jim Powers, former president and CEO of UniGroup (United Van Lines) ― Powers abruptly resigned this week from UniGroup. He lives with his family in Creve Coeur, St. Louis County.

Bob O'Loughlin, chairman and CEO of Lodging Hospitality Management ― O'Loughlin is a resident of St. Louis County who resides in Kirkwood. His company owns the Union Station Hotel, which is adjacent to the site of the proposed soccer stadium. As such he stands to profit from soccer-related stays at Union Station, which has received a tax increment financing (TIF) package to finance its renovations. He is a former chairman of Explore St. Louis and a board member of Washington University, the St. Louis Regional Chamber, and the St. Louis Police Foundation, the private funding arm of the St. Louis Metropolitan Police Department.





This map shows the relationship between Bain Capital and the ownership group.




Bain Capital Group
Founded by GOP presidential nominee Mitt Romney, Bain Capital became the poster child for private equity funds, which find ways to wring profits out of some large companies. In some cases, including a steel company in Kansas City, they loaded up once-profitable businesses with unsustainable amounts of debt, leaving them to file bankruptcy and layoff thousands of employees without benefits and pensions. SC STL Chairman Edgerly and investor Gross-Loh both work for Bain Capital and serve as senior advisor and managing director, respectively.

Bain is the most prominent, but not the only, investment firm represented in the ownership group; others include Summit Partners, Lewis & Clark Venture Capital, Tortoise Capital Advisors.





This map shows political donations over $4,000 by members of the stadium ownership group.




Campaign Donations
With three members hailing from Boston's high finance world, it is unsurprising that all three have donated to Romney. According to OpenSecrets, Edgerly was a major funder of Romney's 2012 "super PAC," Restore Our Future, donating more than $500,000; he also donated more than $300,000 combined to two other Romney-related PACs. Roberts donated more than $70,000 to the "Romney Victory" PAC. Hermann Jr. also made a $50,000 donation to Romney's PAC.

Edgerly, Roberts, and St. Louis-based Hermann Jr. each donated to a mix of the Republican National Committee and the GOP's senatorial and congressional campaign arms. Both Roberts and Edgerly are large donors to the Republican party in Massachusetts.

Ownership group members from the St. Louis and Kansas City areas tend to donate more towards Republican candidates and PACs, with the exception of Peacock and Sherman, who show a giving history that's more inclined to Democratic Party candidates.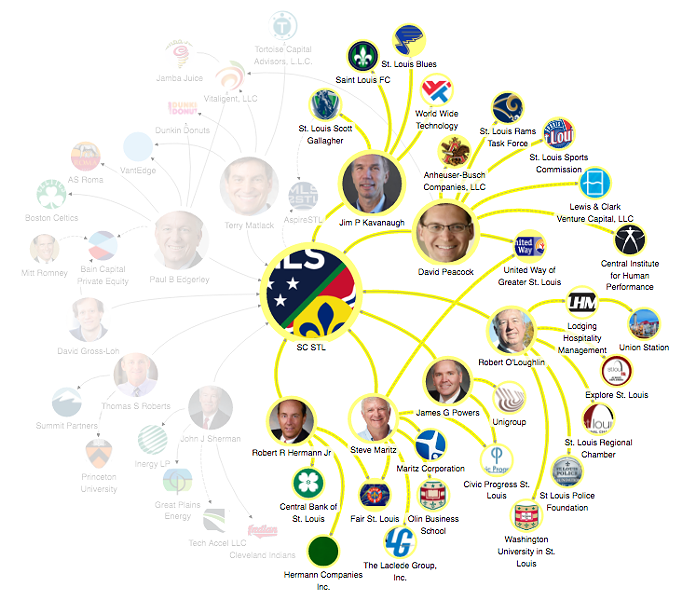 This map shows the network of St. Louis organizations and businesses held by the stadium ownership group.




St. Louis County's Elite Business Class
The six men in the ownership group in the St. Louis area are elite corporate executives, along with one wealthy real estate developer, who sit on a handful of regional boards. They use networks, personal relationships and organizations to set the agenda for the St. Louis region. Notable boards include the Police Foundation, Civic Progress and the "Veiled Prophet" or Fair St. Louis, which was called out by residents in 2015 as a clear example of the organized network of the elite in St. Louis with members profiting from prisons. Like many others in the tight-knit civic elite, they dictate, enforce and profit off the local status quo. The stadium is this group's current project.

Props 1 and 2 are Up for a Vote April 4
On April 4, city voters will be asked to consider two ballot propositions related to the stadium. The first, a sales tax increase, would also trigger an increase in a tax that city businesses pay on out-of-state purchases. The second proposition would divert $50 million of the new revenue to build the stadium. It would be joined with $10 million of TIF money wrested from a portion of Paul McKee's NorthSide development that overlaps with the stadium site.

We hope that this map gives city residents a clearer picture of the people involved in the ownership group as they weigh all the factors in their vote.