Foreclosures Devastated South St. Louis. Nathan Cooper Saw Opportunity.
july 2017 | reporter | cover story | the riverfront times | [link]

What's the state of affordable housing in a southeast St. Louis neighborhood hit hard by forclosures? And how is one influential investor turning a profit?

partners:Clark Randall
honors:included in class syllabi of courses taught by Associate Professor Odis Johnson in the Department of Sociology at WUSTL, Poverty and the New American City taught by Assistant Professor John Robinson, Ph.D. at WUSTL, and urban sociology courses taught by Mary Pattillo, Harold Washington Professor of Sociology and African American Studies at Northwestern University


Gravois Park has been hard-hit by foreclosures. But that's led to opportunity for investors. Photo courtesy of flickr/

Paul Sableman

"Take the elevator to the fourth floor for the tax sale!" a deputy calls out as a line forms inside the Civil Courts Building in downtown St. Louis.

It's 8:30 a.m. on a Tuesday in the middle of May. "Check your belongings in the basket and let's keep it moving," he continues. On the fourth floor, outside the courtroom, a cork board holds four pages of newsprint, listing properties for sale. The parcels are being repossessed by the city of St. Louis after three years of missed property tax payments.

Every so often a court clerk comes over to the newsprint with a red marker in hand. A large "X" is drawn through a property, indicating that the owner has paid at least one year of back taxes — retaining the parcels to their name in the nick of time.
The rest go up for auction. In the courtroom, a crowd of more than 150 people grows as the tax sale begins.

Newly elected Sheriff Vernon Betts takes the microphone and addresses the crowd. Applause breaks out. Betts is charismatic. "If I were in church I would say — you can do better than that!" The crowd responds accordingly.

Just a few minutes before, a man in his early forties entered the courtroom, holding a bid card with the number "94" written on it in black. His name is Nathan Cooper; he's no stranger to land tax sales. He wears a short-sleeve light green plaid button-up, neatly tucked into tight dark jeans. Cooper sports thick black frame glasses and a comb-over. He walks to the first row of chairs in the courtroom and sits in one of the few remaining open seats, shuffling through his papers.

Cooper holds three lists in his hand. The first is the city's roster of all properties for sale, the same one posted outside the courtroom. The second is his list of addresses that overlap with his target area — the southeast side of St. Louis. The third lists the sixteen addresses he is willing to bid on, with the few that he finds most compelling bolded.

By the time Betts is done introducing himself, more than 200 people fill the room: parents with their children, recently graduated former fraternity boys in sandals, baby boomers in corporate attire, a heavily tattooed couple in Thrasher t-shirts and tight jeans. All have their lists of properties and bid cards.

The energy in the room escalates as the auction starts. "Order in the court — no more talking!" a deputy raises his voice. "Men take your hats off — clear the doorway!" His instructions work momentarily, but the crowd soon starts buzzing again.

"Only cash, cashier's check and money orders are accepted. There are no exceptions," announces Deputy Laina Favazza. Deputy Favazza started running the tax sales in the past year, and keeps the room in check. "Bids will be taken in increments of $100. I will now begin the auction."

She begins, "186-008."

"Stop!" Nathan Cooper is the first to stand and shout, casting the opening bid at $1,963. Several others stand up to join Cooper.

"Twenty-four hundred" — the second bid.

"Twenty-five hundred," Cooper calls out.

"Twenty-six hundred."

"Three thousand."

"Thirty-two hundred."

"Thirty-five."

"Four thousand."

"Five thousand."

"Fifty-four hundred."

That's when Cooper takes his seat. He's dropping out. Eight bids later, the property sells for $10,000.

When the second property is called, Cooper again stands to bid. The starting price is $1,143. Cooper goes back and forth early, then takes a seat when bidding passes $5,000. The property eventually sells for $7,000.

A few properties pass, then Cooper checks back in. This time, after a short but intense round of bidding, he drops out when his bid of $9,000 is countered with ten.

Zero for three. But he is unbothered, still flipping through his papers, as he waits for the next address on his list to come up for auction.

Cooper's strategy is different from many of his peers at the tax sale. It can be easy to get swept up into the competitive trap of trying to win a bid-off, but Cooper will take a loss if the bidding heats up. He has no problem bailing when the price exceeds his pre-set value estimation.

"I try to be all-in for $25,000," Cooper explains. "If you buy a house and it only needs $5,000 in work, it gets done quicker. A house that needs $20,000 in work, you could be working on it a lot longer, tying up more time and man hours. I only have so many men to work."

Going through real estate agents, properties in the city's 20th ward can cost $10,000 to $25,000, pre-renovations, he explains. His goal at a tax sale is to acquire only properties that will come in lower than that.

"OK, I could spend $50,000 fixing up this house," he says, referring to homes in another neighborhood. "Or I could buy this one over here for $15,000 and spend $2,000."

Cooper's calculated approach likely comes from experience. Records show he's been picking up properties in St. Louis since the foreclosure crisis in 2007. His acquisitions — many of which have cost him less than a typical used car — have made him one of the most significant property owners on the southeast side of St. Louis. In the process, he's become a go-to landlord for many of the city's most desperate tenants.

Yet that role has come with serious controversy. Elected representatives in several city wards chafe at the extent of Cooper's holdings, saying his tendency to do only minimal repairs places renters and the surrounding neighborhoods in harm's way. Even as developers across south St. Louis are buying older buildings and fixing them up — some keeping rent affordable, others not so much — Cooper has been content to do just enough to pass inspection and then let the federally subsidized rent checks just keep coming in.

And he's still purchasing more houses, as his presence at the tax sale makes clear. Buying in this setting, however, puts him at a disadvantage and he knows it. Potential buyers are only allowed to view properties from the outside and must gamble on the conditions inside, including the structural integrity of the building.

By Cooper's calculation, buying at the land tax sale offers him the opportunity for a slim few thousand dollars off the open market rate in exchange for that risk. "Is it worth it? No, I don't think so," Cooper says.

Yet over the course of the morning, Nathan Cooper places bids on sixteen properties. In certain cases —when, for example, he already owns properties on the same block — the tax sale is still worth it to Cooper.

He successfully bids on three properties, all of them within Gravois Park.

As the auction wraps up, Cooper takes the elevator up to the 8th floor. Once there, he opens up a backpack and begins flipping through a thick wad of bills. He slides a pile of cash under the Plexiglas window to the clerk on the other side.



Map of Cooper's Footprint. Click here for interactive map with additional layers. By Caitlin Lee


Nathan Cooper was drawn to St. Louis after a short-lived political career.

An immigration and labor attorney by trade, the Republican was elected in 2004 to represent Cape Girardeau in the Missouri House of Representatives. "He was kind of a rising star; they were giving him leadership roles in the party," recalls St. Louis Alderwoman Sarah Martin, who was working in Jefferson City as a field organizer with ProVote at the time.

During his second term, however, Cooper was charged with two felonies: H2B visa fraud and lying to the Department of Labor. Cooper was accused of running an immigration scheme for his clients in the trucking business using fraudulent shell companies. He pleaded guilty in December 2007 and was sentenced to fifteen months in federal prison. He was disbarred shortly thereafter.

Following his release from prison, Cooper began acquiring properties in the city of St. Louis.

Tracking Cooper's footprint is not easy. According to records from the Missouri Secretary of State and the city's Recorder of Deeds, Cooper is a member of a variety of limited liability companies, or LLCs, meaning he is one of their owners. By October 2012, LLCs in which he was publicly listed as a member held no fewer than nineteen properties. The following year, that number jumped to 105 properties.

Cooper had begun to cluster his portfolio within the neighborhoods of Fox Park and Gravois Park, but the properties spanned the entire southeast side of the city down to its southern border. By the end of 2014 the LLCs had acquired more than 150 properties in St. Louis, the vast majority of which are located south of Interstate 44. Over the next two and a half years, Cooper's LLCs continued to buy — and sell — properties within the same general area, loosely bordered by South Grand Boulevard and South Jefferson Avenue, hugging the river further south.

Today, Cooper is a member of nine LLCs, which own 209 properties in the city of St. Louis as of June 2017. The majority of these holdings are through just two limited liability companies, Gateway Residences LLC and Teamo LLC.

On top of owning properties, Cooper also manages properties he does not own directly — leasing units, collecting rent, coordinating maintenance and submitting tenancy and reappraisal applications to the St. Louis Housing Authority and city Assessor's Office. Cooper is the property manager for at least 11 companies with 136 current holdings in the city of St. Louis.

The common denominator across all these real estate investments is Cooper — tenants name him as their landlord, city staffers keep lists of LLCs they associate with him just to keep things straight and utility workers and developers in the area know his name well.

(In an email to the RFT, Cooper says, "I assist a small number of individuals with their properties in St. Louis." He adds, "Some of the individuals have their properties under multiple LLCs. I am a member of less than ten business entities. I do not personally own any properties.")

Cooper himself used to live in a house on a hill on a well-kept block of California Avenue in Fox Park. He owns seven properties on the block, which he regularly rents to fellow members in the Church of Jesus Christ of Latter-day Saints, one tenant says. He firmly believes real estate investors should live close to their properties. Still, he moved his family out to the county within the past year, saying he had suffered a break-in.

In an email, he says he remains a consistent presence in the neighborhood. "My time devoted to the properties discussed above has not changed over the last couple of years, and I am in the neighborhoods virtually every day for extended periods of time," he writes.

Cooper initially boasted about his business model to a reporter who sat down beside him at the tax sale. When Cooper left the courtroom to go pay for his properties, the reporter asked to follow. Cooper obliged, seeming to enjoy the opportunity to show off his knowledge of the process.

When paying for his properties, Cooper asked which publication the reporter was with, answered additional questions and allowed the reporter to approach the counter with him. The reporter also interviewed other attendees at the tax sale in front of Cooper. Cooper provided his phone number for follow-up questions at the end of the interview, but noted that he didn't want the story to be about him.

Cooper then did not respond to multiple follow-up phone calls. Finally, at the end of May, he answered the phone and acknowledged the reporter, but quickly hung up, promising to call back. He never did.

In late July, the RFT reached out by email with specific questions about Cooper's business model. He then responded in writing to those questions.

At the tax sale, Cooper says that he does not think highly of the city. He believes a crackdown by law enforcement would solve many of what he sees as the city's problems — crime, trash, loiterers, loud people and louder music.

Even so, Cooper's model focuses on holding properties in the city long-term, not flipping them. His maintenance team fixes up a property just enough to allow it to be rented out.

Over the past decade, Cooper has taken measure of the area's housing stock. He understands the gaps. Recent census data shows that fewer than twenty percent of renter-occupied structures within the 63118 ZIP code have three or more bedrooms; only three percent have four or more. Larger families are often underserved by the market, a gap Cooper is willing to fill. Tenants and local developers who have tried to purchase properties from him attest that he often converts two family units to singles and four-family units to two, thereby maximizing the bedroom count.

Of the parcels he buys at the tax sale, Cooper estimates in conversation that they will rent for approximately $800 per month. At the tax sale, he suggests, his "all-in" number — purchase plus improvements — is $25,000, explaining through hypotheticals that he tries to limit both man hours and rehab costs.

Under that scenario, with a $25,000 total outlay and $800/month rents, the property could pay for itself in as few as three years. (Of all the properties held by Cooper's LLCs, only twelve have had recorded mortgages, according to an analysis of records from the city Recorder of Deeds — less than six percent of these companies' total property acquisitions in St. Louis.)

That's even though the property he's purchasing is no one's idea of turnkey. Most homes in the 20th ward were built before 1940. Each of Cooper's purchases at the May tax sale were built more than a century ago, with one dating back to 1873. Like the rest of St. Louis' old brick housing stock, that makes it much more costly to update than, say, Kansas City's mostly wood-frame housing.

To put those numbers in perspective, a local developer with close to $500 million in city neighborhood development experience says that buying a single-family home in the area and getting it to the point of being safe and habitable is far more costly than Cooper suggests.

"If we could do something for $150,000 we would consider it low-cost," the developer says. "At $25,000 you wouldn't even be putting lipstick on a pig, maybe some chapstick."

An executive director for another local non-profit working in affordable housing and community development agrees. Speaking about rehabs in general, he says that $25,000 would be an extremely low number. "That would be astounding, to my knowledge of the neighborhood, I don't know how that would be possible," the director says. "Either they have developed a business model I can't begin to understand, or they are providing truly substandard housing."

In an email, Cooper claims that he didn't mean that the expense of purchase plus renovations should total less than $25,000.

"Other developers are correct — the number is absurd," he writes. "At the tax sale, I was simply telling you how it was decided what amount to bid on a property — a tax sale property had to not require more than $25,000 total investment to be equivalent to [a property sold through real estate agents]. Further rehab expenses would follow."

Asked what his actual all-in number would be, Cooper writes, "There is no 'all-in' number. It depends on the property — regardless of how purchased."

Pressed for a range, he says, "It all depends on the property. For a small single family home in great condition, it could be a few thousand dollars needed. A larger home in worse condition could be tens of thousands."





The 63118 ZIP code experienced some of the worst affects of the foreclosure crisis.

Photo courtesy of flickr/

Paul Sableman


Alderman Shane Cohn chooses his words carefully when speaking about Nathan Cooper.

Cooper owns property in Cohn's ward, a swath of south city that includes Dutchtown, Carondelet and Mount Pleasant. Cohn moved to the neighborhood before it was ravaged by the housing crisis — and witnessed the impact of many foreclosures firsthand.

And the impact of what happened almost a decade ago continues to ripple today, he suggests, with investors who seek foreclosed properties in the area not to fix them up, but to profit from them.

Asked about the relationship between Cooper and foreclosed properties, Cohn says, "Folks like Nathan will buy them and perpetuate the decline."

The alderman continues, "Has it contributed to the stagnation in terms of properties rebounding and what not? Yeah, I would say to a certain degree it has, especially when you have a large number of properties that aren't being managed and maintained."

(In an email, Cooper disagrees with that assertion. "Most, if not all, of the homes discussed above were vacant, foreclosed, and/or abandoned on purchase," he writes. "They have now passed inspections and are occupied which prevents the homes from further deterioration, vandalism and theft.")

As a metropolitan area, St. Louis does not top the list of cities with the highest foreclosure rates since the crisis. But due in part to regional hyper-segregation, some neighborhoods were still left reeling. In St. Louis County, inner-ring majority-black suburbs like Pagedale, Normandy and Ferguson bore the brunt of foreclosures, the St. Louis Post-Dispatch reported in 2008, even while areas like Clayton and Ladue were relatively unscathed.

The 63118 ZIP code experienced the most severe effects of foreclosure within the city limits, the newspaper reported. The tract is a majority black area that includes parts of Tower Grove East, Gravois Park, Benton Park and Dutchtown. Majority black tracts made up each of the top twelve ZIP codes with the highest foreclosure rates within St. Louis city and county, according to RealtyTrac, a foreclosure tracking firm based in California.

"It was really a matter of timing," explains Glenn Burleigh, a long-time fair housing advocate and resident of 63118's Marine Villa neighborhood. "Black families were moving to the south side because of the dilapidated housing conditions in north city." Between the 1990s and the early 2000s, Burleigh says, these families on the move — and others already in the area — became the targets of subprime and adjustable rate mortgage practices by predatory lenders.

A subprime loan offers higher interest, costing tens of thousands of dollars over the life of a long-term note. Furthermore, such loans sometimes include adjustable rates — and unexpected elevations in interest rates can cause monthly payments to soar. Falling property values can leave mortgage holders under water, owing far more than their house is worth.

In the boom years of the 1990s, subprime loans began being bundled into mortgage-backed securities. The idea was to group high-risk mortgages alongside more stable ones to offset the risk. Banks were now incentivized to sell as many mortgages as possible.

With this new model, black and brown people in particular, who had historically been barred from the mortgage market, became highly sought-after customers. According to a 2005 study by University of Notre Dame sociologist Richard Williams, subprime lending accounted for 43 percent of the increase in black home ownership during the 1990s.

In many cases, that's even when they would have qualified for traditional mortgages. In 2007, the Wall Street Journal reported, 60 percent of all subprime borrowers should have qualified for prime loans. Instead they were steered into exploitative, high-profit products.

And when the market crashed, the effect on areas like Gravois Park was catastrophic.

"You've got to remember, half of the wealth in black families in the United States was wiped out in 2008 — we're talking generations of savings," says Burleigh.

Homeownership gains that black people made since the passage of the Fair Housing Act in 1968 vanished in the years after 2008, according to the Center for Investigative Reporting. And after banks foreclosed, the homes they once owned often fell into the hands of loose networks of opportunistic real estate investors.

Each of the properties Cooper bought at the tax sale in May had a history of multiple foreclosures. An analysis of city records at the Recorder of Deeds shows that more than 60 percent of property purchased by Cooper's companies came from financial institutions rather than individuals — almost half from HUD, Fannie Mae and Freddie Mac.

The properties at these auctions aren't going, in many cases, to people looking for a place to live. The rules basically ensure it. Since bidders have to pay cash, only the professionals — the Nathan Coopers — end up playing the game. But once they acquire property, they are likely to find plenty of tenants. Since 1980, median incomes for renters in St. Louis have stagnated, even as median rents are up between 25 and 30 percent, according to census data.

A landlord willing to cater to low-income residents can find an especially hungry market. Writes Matthew Desmond in Evicted: Poverty and Profit in the American City, "Nationwide, vacancy rates for low cost units have fallen from sixteen percent in 2004 to six percent in 2011." The largest income bracket in 63118 makes under $15,000 annually, census data shows, and 36.9 percent of residents are living below the poverty level. That's even though renters need to make $15.58 an hour to afford to rent a two-bedroom unit in 63118, according to the National Low Income Housing Coalition. Despite this landscape, the city's minimum wage was struck down to $7.70 an hour by Governor Eric Greitens and the Missouri legislature — tightening poverty's grasp.

In unguarded moments, Cooper seems to enjoy the influence he has over the southeast side of St. Louis. At the tax sale, he explains to a reporter, "You can't be a master of everything. Just be a master of one area instead."

But many housing advocates and city officials worry that Cooper's mastery has destabilized the neighborhoods where he owns so many properties.

"There will always be a set of people within our community who are allowed to be preyed upon for other people's investments," says Amanda Colón-Smith, acting executive director of the Dutchtown South Community Corporation. "Someone will reach this extreme level of 'how can I extract the most for myself,' and that promotes a predatory environment."

And some city officials say Cooper's low-cost approach to renovation and maintenance is victimizing his tenants.

Alderwoman Cara Spencer says, "Substandard housing is the biggest problem I see facing my ward." She says she's been dealing with the effects of Cooper-owned properties since she came to office in 2015.

Alderman Cohn says he has to deal with Cooper not only as a city official, but as a neighbor: Cooper owns the property next door, he says, as well as several others in his ward. Infestation problems on Cooper's property have spilled over into other homes on the block, Cohn claims, saying Cooper represents a public safety problem within his ward.

Cooper "does not maintain the interior of [his homes] until it becomes unhealthy for folks that are living there," Cohn says.

"He really is preying on vulnerable people," says Alderwoman Sarah Martin. "Say you're a single mom with two kids, making minimum wage. They are renting from him because they don't have the funds available to rent from a better landlord and live in a better living situation."

Cooper denies any negligence. Of his tenants, he says, "All properties were chosen by the tenant, passed city of St. Louis Housing Conservation District inspection process, and any other government-required inspections. We make repairs as requested by tenants."

But the quirk of the market that Cooper is serving is that, in many cases, it's not just his tenants paying him rent checks. It's also the federal government.

Data produced by the housing authorities of St. Louis city and county in response to a public records request shows that 103 of Cooper's units were filled in July 2017 with families who hold Housing Choice Vouchers, formerly known as Section 8. Thirty-one additional units housing families in exchange for federal funds are held by companies or individuals for which Cooper serves as a manager.

Over the past few decades, subsidized low-income housing has shifted away from government-constructed public housing projects. Now local housing authorities provide vouchers for low-income individuals and families to use on the open market. They contract with landlords to ensure minimum standards of health and safety are upheld.

With a voucher, a large portion of a tenant's rent is paid for each month by federal funds funneled through the local authority. (In St. Louis, a regional exchange makes voucher use across city-county lines possible.) However, some neighborhoods see a disproportionate number of vouchers. In 2016, the census tract that includes Gravois Park hosted 238 vouchers, the highest concentration south of Interstate 64.

For Cooper, vouchers mean reliable income on the first of every month. In 2016 alone, businesses in which Cooper has ownership received more than $908,000 from the city and county authorities, according to housing authority records. If companies under his management are included, the number grows to more than $1.1 million.

Asked about that total, Cooper again suggests that the RFT's analysis of his holdings is incorrect, writing, "I do not believe that you have the correct delineation between properties managed and properties of which I am a member."

He adds, "We do our best to provide a quality product for tenants. All properties in federally subsidized housing have standards that must be met or rent is terminated."

Asked how much of his business plan is dependent on U.S. Department of Housing and Urban Development (HUD) money, Cooper ignores the question.





" Substandard housing is the biggest problem I see facing my ward," says Alderwoman Cara Spencer. Photo by Steve Truesdell




Dana Williams knows Nathan Cooper well. He is her landlord, and her small single-family home on St. Louis' southeast side is not the first property she has rented from him.

(Williams is not her real name; the RFT agreed to use a pseudonym to spare her and other tenants from any repercussions.)

"Did you say landlords?" Williams exhales after nudging the door halfway open to see who is knocking. "Well, honey, my house is a story. I been staying here years and this man ain't never did nothing for this house."

Williams and her family experienced homelessness for months before receiving a Housing Choice voucher. Her time on the voucher waitlist was expedited by the seriousness of that situation. Locally and nationwide, the majority of people who qualify for housing assistance across the country will never receive it. Today, in St. Louis, more than 23,000 families are on a waitlist for 7,042 vouchers. The housing authority has not accepted a new application in three years.

Even with a voucher in hand, finding housing was not easy for Williams. Most apartments require security deposits or credit checks, or were not big enough for her family. And many landlords, even though it is illegal in the city limits, avoid housing voucher holders all together.

In St. Louis, black people account for 94 percent of voucher holders. More than 80 percent are women-headed homes, most with annual incomes between $5,000 and $10,000. A $50 application fee, even if the rent is affordable for a voucher holder, can prevent a move to better housing.

That's where landlords like Cooper come in.

Voucher holders are given 120 days to find housing. For low-income families, who often have restricted transportation, longer work hours and less day-to-day stability, four months can go by fast. One of Cooper's tenants says that the St. Louis Housing Authority directed her to Cooper as the voucher approached its expiration date and her anxiety increased.

Tenants say Cooper is willing to house people on the same day he meets them. One of his listings on www.gosection8.com is for a six bedroom, two-bathroom townhouse renting at $1,100 a month. "Criminal Check: No, Credit Check: No," the listing reads. Nathan Cooper is flexible.

With no other viable options, Williams agreed to lease from Cooper despite holes in several walls the size of a shoe, a broken shower and moldy carpeting. The home had been vacant for more than five years prior to her move-in, according to William's neighbors.

"When I found it, it was worse than how it is now," she says of her home. "But you know how when you have a vision for something, especially if you're a quirky person and your art is everything? I envisioned this house." She pauses. "And he sold me on the dream, basically, 'I'll work with you,' you know what I'm saying?"

Housing authority inspectors signed off on the house with minimal repairs, she says. "[The inspector] just came, did a little walk through, asked about the holes and stuff like that," she says. Cooper and his maintenance team patched up the holes and fixed the downstairs plumbing to pass the inspection. "The carpet is the same as when I came in the property," Williams says.

Williams leans up against the door frame and gestures toward loose wooden panels beneath her. "Any day now, the porch alone — it could fall through, and I have kids in the house." She says she's taken matters into her own hands, nailing wooden planks into the base of the porch for support.

But with each alteration, tenants have to weigh the health and safety of their families against the possibility of retaliation.

"I have a house full of asthmatics," Williams says. "We got mold on the wall, mold under the carpet, and we can't do nothing about it because [Cooper] hasn't given us the 'OK' to. But I don't want to have the 'OK' after one of my kids is in the hospital for it."

Williams continues, "Ain't no safe side when it comes to this."

Williams' concerns about her home are echoed by Cooper's tenants across the city's southeast side. Eight of Cooper's tenants tell similar tales of poor living conditions and little, if any, help from their landlord. One tenant describes a leaking roof that puddles inside each time it rains. Maintenance requests were made on multiple occasions to Cooper with no resolution. Another tenant describes a mice infestation, requiring children to sleep with the parents. Cooper, the tenant says, failed to respond to their communications requesting assistance for more than a month. Says Williams of Cooper, "He will respond...but he don't respond."

Two tenants thought highly of Cooper. One explains, "He's never around."

Of the 40 properties the RFT door-knocked up and down southeast city, allegations of paint-overs and patch-ups to mask larger, structural issues are recurring. Tenants claim that Cooper's maintenance men hide lead paint in units, with a single coat of paint that lasts around three months. One tenant alleges that her children were found to have levels of lead in the bloodstream more than two times what the Centers for Disease Control and Prevention calls toxic.

Asked about these allegations, Cooper writes, "We attempt to handle all tenant maintenance issues in an expeditious manner. Much of the maintenance performed is caused by tenant abuse of the properties."

Williams has stopped washing the walls in order to avoid further peeling of lead paint.

On the subject of lead paint in particular, Cooper writes, "In the few circumstances each year that a property tests positive for lead, we work with the city agency dealing with it to make sure it is properly abated. Most instances involve tenant created damage to the property that has chipped the paint. There is never chipped or peeling paint in any property upon move-in."

Some of Cooper's tenants find ways to move out of the homes. Neighbors of Cooper's properties say they have observed a short-term cycling of tenants through his buildings — a few weeks to a few months — attributing their move to the conditions of the units.

Yet for tenants like Williams, there seem to be few choices.

"I don't like that man," she says. "But I don't think there's another landlord in the city that will accept me."

When her last lease was up, she began to look elsewhere. After she viewed four apartments, she fell in love with one. "It had all hardwood floors, a clean basement and a backyard," she recalls. It also had a security deposit she could not afford.

Janie Oliphant is the lead housing counselor with Ascend, a local nonprofit that supports voucher holders in their search for housing in low-poverty areas. She notes, "If [families] do not have the money for a deposit, it's unlikely they would be able to move into a new unit. It's a common occurrence and barrier for families who might otherwise be able to move."

Cooper and his properties can be hard to escape.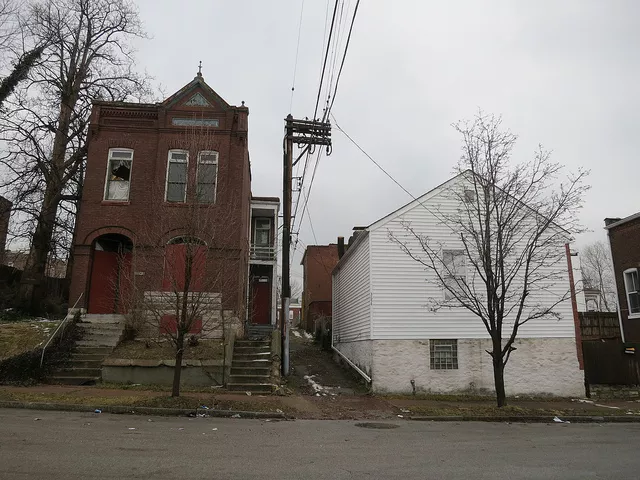 A recent city ordinance eliminated an extra inspection for property receiving HUD vouchers. Photo courtesy of flickr/ Paul Sableman


Renting to Housing Choice tenants requires that landlords pass not one, but two inspections: one from the city, and another from the housing authority.

"With Section 8 you have another set of eyes, so you have the city inspectors from the building division, but then you also have these inspectors from the housing authority, conducting Housing Quality Standard (HQS) inspections," explains Molly Metzger, a professor at Washington University who researches vouchers. "The idea behind the additional inspection is to prevent spending federal dollars on slumlord properties."

HQS inspections are performed to ensure "minimum health and safety" of the unit, says Cheryl Lovell, executive director of the St. Louis Housing Authority. Basic security is required: doors, windows, locks, smoke detectors, fire escapes. But inspections are strictly visual. "So if there is not peeling, cracking or chipping paint, that is the end of the inquiry," Lovell says. "There are landlords that know what they have to do as a minimum, and they do that."

Still, the goal is not to reject units and their landlords, but to work with them.

Speaking to the initial inspection, Lovell says, "A fair number of them fail." Landlords are given chances to address problems, and if they do, applications are approved — and funds start flowing. Up until the second-year inspection, she says, it is then on the tenant to alert the Housing Authority if negotiations for repairs are not successful.

Some tenants, though, say they fear complaining — they don't want to upset their landlord, risking retaliation or the loss of their voucher.

Lovell agrees that tenants might be in compromising situations that make it risky for them to call for support. But she says the housing authority has no responsibility to these tenants unless they call.

She takes a deep breath. "We used to do annual inspections, but with the new budget we've had to change." She adds, "Well, really, it has been like this since 2013" — referring to sequestration cuts to domestic spending that went into effect in March 2013. HUD, the source of housing authority funds, absorbed a disproportionate amount of cuts. The sequestration knocked $1.4 billion off the Housing Choice Voucher program.

"And we haven't even seen the budget for fiscal year 2018," Lovell notes. Those numbers, and the promise of even steeper cuts under President Donald Trump, seem to have the director worried.

Asked directly, Lovell would not comment on Cooper's performance as landlord.

As for the city, it requires all rental properties to pass inspection. But two years ago, it eliminated the requirement for an additional set of inspections for properties applying to host voucher holders.

After hearing that landlords were rejecting voucher holders to avoid the extra inspection, making it harder for low-income tenants to find good housing, a 2015 bill approved by the Board of Aldermen removed that additional hoop. (The bill was championed by Metzger and Alderwoman Christine Ingrassia.)

Now city inspections treat Housing Choice properties like any other rental. Whenever utilities change names, a Housing Conservation Inspection is triggered.

But inspections do not always ensure safe, habitable homes. Many residents, city officials and developers agree: City inspectors' work can vary widely. Beyond that, if violations are found, only the landlord is informed; the housing authority is not copied on violations in units occupied by voucher holders, says Mary Davis, secretary of the building commissioner.

Even if the building division finds violations, they do not directly threaten the landlord's stream of rent checks from the housing authority.





Dan Guenther wonders if a city crackdown on landlords would only hurt their tenants. Photo by Steve Truesdell




In 1967, more than 60 public housing tenants, primarily black women, picketed in front of the St. Louis Housing Authority, demanding policy changes, lower rent and better services.

At that time, the local housing authority did not base rent prices on income, but on the unit's square feet. Mothers who were unable to work full-time routinely could not afford their rent. The protesters' demands also arose from the housing authority's failure to address rodent infestations, lack of heating, poor infrastructure and widespread exposure to lead.

One of those residents was Jean King, a young mother, who refused to move from public housing until the inequality was addressed.

"Somebody's got to do something — I'm ready to go!" King said at an early meeting of tenants. After the meeting, King was elected president of the newly formed Citywide Rent Strike Committee.

After further organizing, in February 1969, public housing tenants began what would become the nation's longest, largest and most successful rent strike to date. Tenants demanded rent no more than 25 percent of their income, improved building maintenance and greater representation on the housing authority's board of commissioners.

By the fall of 1969, more than 2,400 tenants had withheld more than $600,000 in rent. The strike drove the St. Louis Housing Authority to near-bankruptcy.

"When we get our demands, the housing authority will get its money. And not a minute before," Jean King told reporters.

After nine months, the rent strike wore down Mayor Alfonso Cervantes and the housing authority. They agreed to the tenants' demands.

King went on to testify to the U.S. Senate, recommending that rent for publicly assisted housing be income-based. Her suggestions were included in the Brooke Amendment of the Housing Act of 1969, which limited rent to 25 percent of income. Federal subsidies for public housing were increased nationwide.

Decades have passed since the historic strike of St. Louis, yet few channels exist to hold landlords accountable. Keeping tenants safe from slumlords often conveniently falls just outside the jurisdiction of the housing authority, just outside the building division, and just outside the health department. Amanda Colón-Smith, who works with Dutchtown South, calls the issue "under-investigated, or, under-prosecuted."

Yet if housing conditions are to be addressed, Colón-Smith asserts, "The tenants have to be the center of the conversation, not just the properties... the actual people that live there."

She says, "It's not a short-term thing, it's a long-term thing. You have a whole community that has to grow up, experiencing problems that [these landlords] bring into the neighborhood."

Today, the city's enforcement mechanism fails to address large-scale neglectful landlords and protect tenant health, notes Alderwoman Ingrassia. "The fines of up to $500 are not incentivizing upkeep or investment in the area. It's either pocket change, part of an owner's business model, or they avoid paying it."

Enforcement of building stock conditions has long been a problem. In 1969 tenants successfully pushed for a citywide ordinance, requiring landlords to remove lead paint. However, the Real Estate Board of Metropolitan St. Louis refused to comply, gambling that the city would not prioritize funding. Later that year the mayor agreed, calling the ordinance "unenforceable" and citing a budget deficit.

Like Ingrassia, Alderwoman Spencer believes there is room to improve.

"We have to figure out how to empower the neighborhood to make the most of these properties," Spencer says. Given the funds, Spencer would invest in tenants' rights education and outreach. "It's a problem of resource allocation; we need to allocate money to take care of this."

In the city's balkanized system, each of its 28 wards are allotted equal resources for inspections and staff to deal with property. That means wards like Spencer's, which includes Dutchtown and other areas with a high number of underinvested properties, are stretched thinner than wards with high homeownership rates. "It is a system designed to fail," Spencer says.

Both Spencer and Cohn advocate for a "coordinated effort by the city" to deal with landlords like Cooper. "But inevitably things like policing become the priority over the building division," Cohn notes.

"This is an instance of a pervasive problem in St. Louis city," adds Martin.

Some local developers on the south side have offered one idea: They've attempted in some cases to buy properties from problematic landlords, including Cooper. But they worry that only gives him more money to increase his holdings on other blocks.

And a change in ownership is not a solution in and of itself. Often developers, elected officials and neighbors call for landlords to increase practices like tenant screening, instituting credit checks and application fees, reviewing eviction histories or arrest records. These same practices, however, would deny many of Cooper's current tenants housing. To Burleigh, promoting these practices is in effect saying, "'For all these people that are being taken advantage of, what we really want is for them to just to go away.'"

Over time, screening practices can have a systemic change on a neighborhood's complexion, income level and access to resources, whether intended or not. Recently, south-side neighborhoods like Tower Grove South and Shaw have seen large decreases in their black populations after instituting stabilization practices, census data shows.

"In this way we move poverty around our city. They blight one area, moving people to the next," says Colón-Smith. "If we don't focus on wealth-building — quality rentals, rebuilt credit, low-income homeownership — for families that are being taken advantage of, I don't see how we are really looking at systemic poverty."

Alderman Dan Guenther, who represents the ninth ward, worries about what would happen if the city tried to take a heavier hand with Cooper. He says, "I'm concerned for the residents potentially displaced if the city were to respond by boarding up all his buildings at once."

For Cooper, the concerns are different.

At the tax sale, he tells a reporter, "The city is a horrible place to live, absolutely, the city is so messed up. And nobody wants to do anything to straighten it up, unfortunately... It's sad."

Still, the city seems to have made him a lot of money. Projecting considerable returns and no shortage of low-income tenants, this year Nathan Cooper celebrates ten years of property ownership in the city. Cooper's model of concentration — of being a master of one area, no matter how horrible he finds it — has served him well.

How well it's served anyone other than Cooper, of course, is a question many people in the city are talking about these days.

"I'm concerned about the actual families who are here now, and I think the whole rest of the city should be concerned too," says Colón-Smith. "Folks got to live somewhere. And if you've got multiple evictions, where you going to live?"

She pauses. "We got to live together in this city."